We host events and shows throughout the year and attend monthly meetings. We enjoy touring and other activities.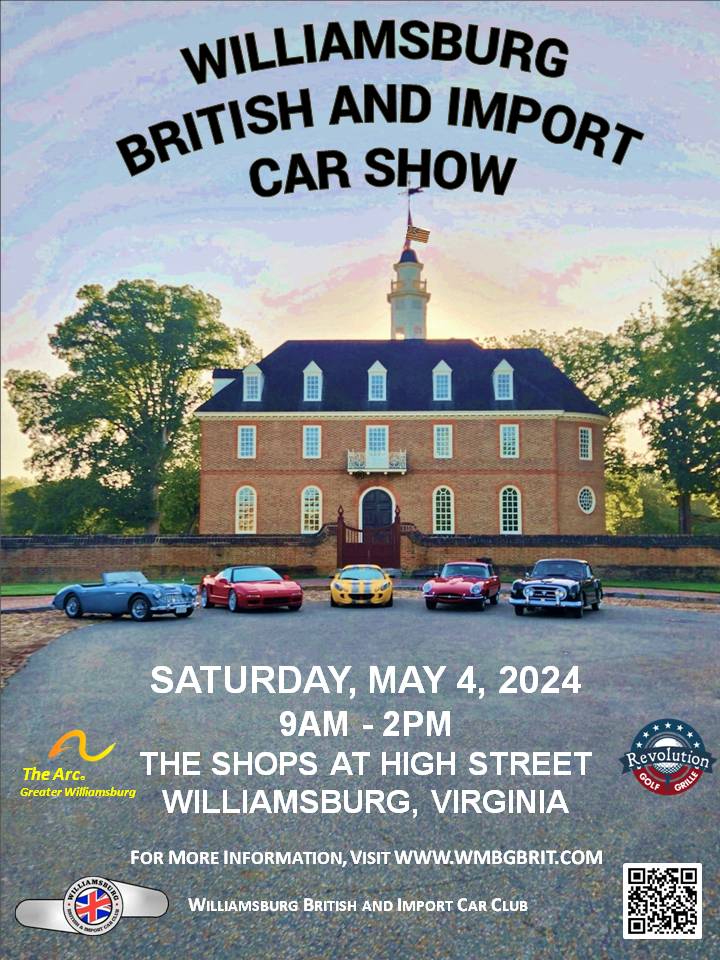 Date
Event
March 11
Saude Creek Winery Drive Out
April 22
Williamsburg British and European Car Show
May 20
Middle Peninsula Drive Out following Cars and Coffee with cookout
June 3
Upper Shirley Vineyard Drive Out
June 24
Gloucester Tour with Lunch in downtown Gloucester, hosted by George Bennett
July 15
Lunch following Cars and Coffee, Frothy Moon Brewhouse
August 19

"Lunch N' Brews" following Cars and Coffee, Highway Pizza, 3044 Richmond Road, Williamsburg
The restaurant opens at 11am.

September 10,

10AM-3:00PM

Williamsburg Car Show (Colony Auto Enthusiasts) Show is sold out but come see a display of "Woodies", early Porsches and EV's
September 16
"Lunch N' Brews" following Cars and Coffee, TBD, but suggestions are welcome. One suggestion is

Spoke and Art on Rt. 5. 

September 17, 10AM- 3:30PM

Stratford Hall Wine and Oyster Festival and Car Show,

Contact Jack Ashburn, jbashburn@verizon.net

September 30, 8AM-4;00PM

Air, Car & Boat Event ("Wings, Wheels and Keels") Hummel Air Field, Topping VA wingswheelskeels.com
October 7
Annual British Car Festival, Waynesboro, VA put on by the Shenandoah Valley British car Club.
svbcc.net/carshow.html
October 21
Virginia Fall Classic Car Show, Newport News Park.
vafallclassic.org/register.pdf 
Oct 28
Fall Chili Rally
December 9
Christmas Party at the home of Forrest and Stacy Harris.
Special NOTE the show put on by ECW at the Williamsburg/Jamestown Airport has been cancelled for this year.
Other events for car enthusiasts that will be announced in our monthly meeting minutes:
Cars and Coffee, third Saturday of the month, High Street next to Revolution Golf and Grille.
Quarterly 2 hour drives around the local counties followed by lunch, coordinated by Ron Mitchell.
Various car shows
Our meetings are held on the fourth Wednesday of each month and are very
relaxed and informal. We offer technical advice and tips to members on maintaining their British Cars. 
For more information about these events or to RSVP, contact us. Event details will be emailed to members one to two weeks prior to each event.